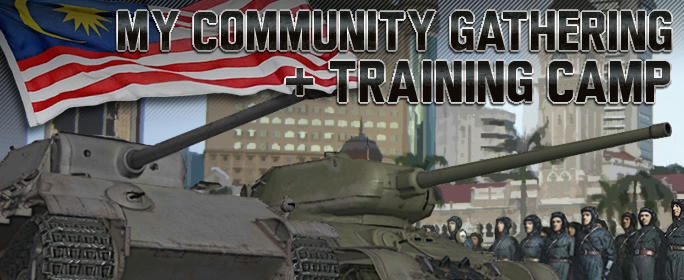 Malaysia Training Camp with the Community Gathering 24th May 2014
 
Attention!!

We would like to invite the Malaysian Players to join our Community Program, Malaysia Training Camp (MY Training Camp) and also the Community Gathering this month :-
Date and Location :-
Date: 24th May, 2014
Time: 10.30am – 07:00pm
Venue: Blitzone Cyber Café, 25125, Unit 3A, Lebuh Bandar Utama, 47300 Petaling Jaya, Selangor
Google Map : http://goo.gl/maps/mRJW0

In this training camp, you will learn more about the gaming strategies you can use. Have a couple of burning questions? Fire away! Veteran players will be there to help out to answer any queries you have about the game. 
You will also learn about how to navigate yourself around the game's various maps and how to use your surroundings to your advantage. Important factors that can make or break your battle will be discussed and you will be guided through a variety of tactics so that you can game like a pro whether you're playing in a familiar team or joining a random battle.
Not just that, we also will have the Community Gathering together on the same day, players can hang out with their friends or World of Tanks players all around from KL, Selangor and Malaysia while enjoying the foods. 
Schedule Events

Keen to join us? We'd like to meet you! Please register by RSVP. Only 70 players will be selected though, so register fast!
IGN:
Friend / Clanmate IGN :
"one mind, one heart, one purpose, One Malaysia"

See you all there!
Regards,
LiquidSnake.