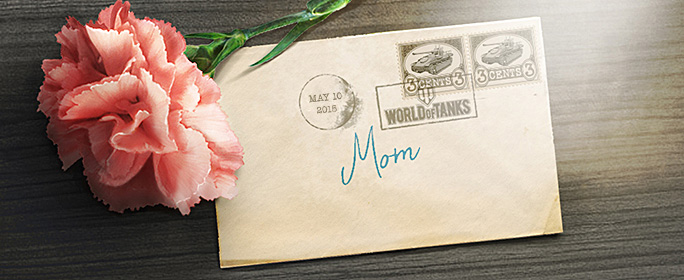 Hi, Commanders
Mum's are the best at rewarding a job well done. Be your impressive best and reap the rewards!
Mission start: 10 May 2015 at 14:00 (UTC+8)
Mission end: 11 May 2015 at 14:00 (UTC+8)
Mechanics:
Redeem the Mother's Day Bonus mission.
Submit a screenshot of your Personal Score tab of the in-game Battle Results showing that this mission was completed.
Edited entries/comments will NOT be accepted.

Duplicate entries will be disqualified.

Only screenshots from battles within the event period will be eligible.

Deadline of entry submission is on 11 May 2015 at 15:00 (UTC+8).
Prizes:
7 winners of Mum's Care Package (1000 gold + 5 pcs each of

Large Repair Kit

, Large First Aid Kit, and Automatic Fire Extinguisher)

Additional requirements:

Obtain an Ace Mastery badge for the battle where you redeemed the Mother's Day Bonus mission.

Replay of the battle must also be submitted.

1 winner for each Tier covered by the mission (4, 5, 6, 7, 8, 9, and 10).

First qualified entry for each of the indicated tiers wins.

20 winners of 300 gold

Randomly drawn from other qualified entries
*Military Parade Special Bonus*
If a Mum's Care Package winner happened to use one of the Military Parade tanks for the entry, he/she also wins the gold value of the tank!

T-34-85 Rudy - 3550 gold
Cromwell B - 3450 gold
IS-2 (USSR) - 5250 gold
ISU-122S - 4750 gold
Notes:
This thread will open for submissions on 10 May 2015 at 14:00 (UTC+8).
Don't know how to post your screenshots? Check this guide! Image links will also be accepted as entries.

Replays may be uploaded to any replay or file hosting site as long as a working link is submitted for the entry.

Winners will be announced within 1 week after entry submission ends.

Prizes will be awarded within 2 weeks after the results are announced.